3 Ways to Reduce Readmissions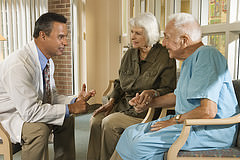 Hospitalization is very expensive. Out of the $2 trillion in total US health spending annually, one-third accounts for hospitalizations each year. However, what might surprise you is that one in nine hospital admissions are actually re-hospitalizations where patients are readmitted into the hospital within 30 days, reports HIT Consultant Media.
Approximately 90 percent of readmissions into hospitals are not planned, according to The Agency for Healthcare Research and Quality (AHRQ). Numbers this high often account for inferior care coordination and continuity as well as medication mismanagement, according to studies.
As a clinician, below are three suggestions that may help patients, especially your senior patients, avoid hospital readmissions.
#1. Educate Patients
By not ensuring they are educated before they leave, you risk your patients taking the wrong medications, not making or showing up to follow-up appointments, and experiencing symptoms that confuse them and bring them back to the hospital.
What can you do? Involve patients and their loved ones in the care continuity process to ensure they understand their condition and course of treatment. By doing this, you will ensure your patients know the post-discharge plan and will be able to follow it more effectively. After your patient has been discharged, you won't have direct control over their care, therefore, it's important that they understand their discharge instructions clearly.
#2. Ensure Discharge Follow-Up & Post Discharge Phone Calls Are Adhered To
Schedule your patients for follow-up care prior to them leaving the hospital. If your patient is at a high risk for readmission, schedule them for a follow-up within seven days of discharging them. Schedule all other patients for a follow-up within 14 days, unless extenuating circumstances suggest otherwise. Following their discharge, have a member of your care team call each patient to go over their condition and recovery, answer any questions, and see if there are any issues with their medications.
#3. Provide Home Health Care Services Options
As it can improve the effectiveness of a health care transition, set your patients up with a home health aide or allow them access to home health care services after discharging them. Individuals living by themselves have a higher risk of being readmitted than those who live with others. Readmissions can be reduced through home care by providing a lower cost alternative to medical-based care transitions. Patients can receive medication reminders, personal care assistance, transportation to appointments, and a link to communicate with other care providers through an in-home caregiver.
Unnecessary hospital readmissions are a drain on hospital resources: time and money, not to mention the stress it causes to the patient herself. Follow the above practical steps closely to decrease the readmission rate of seniors discharged from your hospital.
Need more information when it comes to senior health and safety tips? Give Senior Living Options call today at 203.359.5777. We would love to help you keep your senior loved one safe!
This entry was posted in Alzheimers, Assisted Living and tagged hospital readmission education, hospital readmissions, safety for seniors, senior safety. Bookmark the permalink.
Author:
Ann Jamison
Ann Jamison is an experienced senior advisor who has successfully worked with hundreds of families to help them find the best care and home-like environment for themselves or their loved ones. Prior to launching Senior Living Options, Ann was an eldercare advisor for a national placement agency and served as sales director at a senior living community. Thanks to her 25-year career in advertising sales and marketing, Ann is able to discern between hype and reality for her clients. Ann recognizes that there are objective factors that need to be weighed when making a life-changing decision, but she can also assess the important softer attributes by getting to know her clients and by using the gut instincts that can only come through extended experience.