Direct Your Clients to the Right Financial Advisor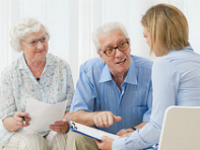 A responsible and smart financial advisor is a crucial team member who can help your senior client plan out his or her finances. Assisting them in finding that key person is one of the most essential ways to ensure their financial situation is healthy and kept under control.
Qualities to Look for in a Financial Advisor
Fee-Only
The 'fee-only' financial planner is a type of planner who works for the client directly and is paid either by assets under management, by fees charged, or on an hourly basis. They are not paid through commissions or trailers on products sold. Because of this, it helps in preventing a conflict of interest between the client and advisor. They have a fiduciary duty to work on the behalf of the best interests of their clients. The 'fee-only' advisor is not to be confused with the 'fee-based' advisor who does collect commissions and fees.
Knowledge
Sadly, many financial industry people have weak knowledge in all the complexities that make up the financial arena. What's more, the market can't be predicted. Nobody knows what it's going to do. They might have a theory as to why it goes up and down, but they really don't know. The financial advisor you bring aboard to help your senior client should be able to position them in the best possible manner so they thrive in good markets and can make it through the bad ones. Being upfront and truthful is critical. A reliable financial planner provides you with confidence.
Meeting the Financial Advisor
When you and your senior client meet the financial planner at the initial consultation, be sure it is the same person who will be handling their account. If not, insist on meeting the associate who will be in charge of handling the daily tasks and review their qualifications.
Relevant Experience
Financial advisors come from various financial career paths. They can be stockbrokers, certified public accountants, certified financial planners, insurance salespeople, or mortgage brokers, just to name a few. It's essential to find out the background of the financial advisor you choose for your senior client, as well as their experience in this line of work and their professional accreditation. This will allow you to gauge the accuracy of their advice.
You also want to choose a financial advisor for your client who has several years of experience in this role and has worked through bull markets and recessions. They should be able to give advice to clients about both market conditions.
Questions to Ask the Financial Advisor
When you search for the right financial planner, experts recommend that you ask them about the following:
Work experience and education
Licenses and/or certifications (CFP, or Certified Financial Planner, for instance)
Services offered
Any net worth minimum expected of clients
Their approach/philosophy towards financial planning
Who will be executing the financial plan
Fee structure
Any conflicts of interest that are known
After you have researched and interviewed a potential financial advisor candidate, the trust you and your senior client feels trumps everything. For many, the fastest way of finding the best financial planner is typically through word-of-mouth from a trusted friend or family member. Having financial peace of mind is not only about the money in the bank, it's really the peace of mind you experience when you deal with the financial advisor
If you have more questions on how you can better direct your clients to the right financial advisor, give me a call at 203.359.5777 today!
This entry was posted in Assisted Living and tagged financial advisor. Bookmark the permalink.
Author:
Ann Jamison
Ann Jamison is an experienced senior advisor who has successfully worked with hundreds of families to help them find the best care and home-like environment for themselves or their loved ones. Prior to launching Senior Living Options, Ann was an eldercare advisor for a national placement agency and served as sales director at a senior living community. Thanks to her 25-year career in advertising sales and marketing, Ann is able to discern between hype and reality for her clients. Ann recognizes that there are objective factors that need to be weighed when making a life-changing decision, but she can also assess the important softer attributes by getting to know her clients and by using the gut instincts that can only come through extended experience.