Holiday Travel with a Loved One who has Alzheimer's Disease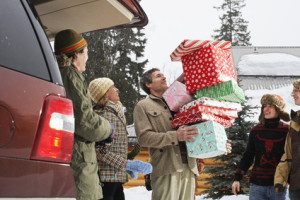 The holidays are one of the busiest travel times of the year. If your Christmas or Hanukkah plans include traveling with an aging loved one who has Alzheimer's disease, the key to a successful trip is to be prepared. Keeping someone with Alzheimer's safe requires Connecticut and New York caregivers to take a few extra steps before packing up and heading for the airport.
Six Holiday Travel Safety Tips for Caregivers
Here are a few tips that can help make your holiday travels go more smoothly:
Plan ahead. Before you book your flight or car trip, think about what are typically your senior loved one's best and worst times of day. For many people with Alzheimer's disease, mornings are best and evenings are more challenging. Try to arrange your travel schedule around those times. Whenever possible, book direct flights instead of those that may be less expensive but require layovers.
Create an activity box. Whether you will be traveling by car, train, or air, the trip can easily create stress and agitation for someone living with Alzheimer's disease. To help combat that, put together an activity box. Have repetitive tasks they can do inside such as sorting cards, folding small fabric swatches, or separating poker chips.
Explain the situation. Be prepared to give a quick explanation of your loved one's situation. Some caregivers even find it helpful to put the information down on a small card that can be handed to flight attendants, TSA gate attendants, and others. It can help avoid embarrassment for your aging family member.
Bring a copy of their medical file. While no one wants to imagine the worst will happen on vacation, it is better to be prepared. Make copies of your loved one's medical file and bring it with you. Be sure you include emergency contact information, physician contact information, a medication list, medical history, and a list of allergies. If they have important health documents in place such as a durable power of attorney or a living will, bring copies of those as well.
Emergency contact cards. Just in case you and your loved one are separated, create emergency contact cards with your name and contact information on them. Also include a few other loved ones who can be contacted in case of problems. Place copies of it in your loved one's wallet, purse, pockets, and travel bag. While they might be unable to verbally share that information with emergency responders, they may be able to give them the card.
GPS tracking devices. Becoming separated from a loved one who has Alzheimer's disease in a busy airport or travel plaza can be terrifying. Fortunately, newer technologies make it easier for them to be found. You can purchase pendants or watches that have GPS tracking built in. The newer ones work off of mobile technologies so they can be used anywhere.
For more tips, visit Traveling with Dementia. The experts from the Alzheimer's Association share resources for a variety of caregiver travel situations. Need more help with senior care? Contact us at 203.359.5777 today!
This entry was posted in Alzheimers. Bookmark the permalink.