Keeping Seniors Safe on Social Media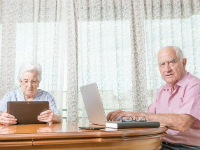 Senior citizens are jumping on the social media bandwagon in great numbers each year. In fact, according to the Pew Internet & American Life Project, 53 percent of adults who are 65 or older are using the Internet as well as online tools like email and social media. Of this number, 70 percent are online every day. This doesn't come as a surprise since there are many benefits offered to seniors on the internet, including staying in touch with loved ones, far or near to them.
Being online, seniors can stay connected with society, which brings important resources and information to them. For example, they are able to shop and bank right from their own homes. Numerous sites exist that are geared towards the interests and needs of elderly adults and the growth of these types of sites is expected to continue.
Sadly, however, with the growth of these sites, the risks of seniors being targeted by scammers also increases. Being a child, caregiver, or clinician of an older adult, it's your responsibility to help keep them safe, even online. Below are some suggestions.
Beware of Fraudulent Messages
Microsoft suggests not to automatically trust that every message will be from who it says it's from. It is not hard for hackers to compromise people's accounts and send messages that appear to be from friends, but really are not. Ensure that your senior patient knows about this risk and has alternative methods for communicating with their friends and loved ones, which can include inviting them to join social networks.
Adjust Security and Privacy Settings
Security and privacy settings are put in place for a reason and it's important seniors know how to use them; especially on social sites. These settings on social sites help to control who will see what is being posted and will help keep the user's online experience positive.
Beware of Phishing Sites
Another thing to point out to your elderly patient is phishing tactics. It's essential that the social media address (URL) is typed out directly into the browser, rather than simply clicking on a link from another site or through email. This can prevent becoming victim of fake sites that are designed to steal personal information.
Select Friends Wisely
Encourage your senior to be selective with whom they friend on social sites. Too often, identity thieves make fake profiles on these sites in the attempt to gather information from people.
According to National Cyber Security Alliance, your senior can protect themselves with the following STOP, THINK, CONNECT tips:
Ensure the computer is clean. It's important to have the latest web browser, security software and operating system in place which will protect against malware, viruses and other online threats.
Control your online presence. If it's allowed, set the security and privacy settings on each social site to the absolute comfort level of information setting. It is possible to limit what and how you share information.
Create strong and long passwords. This can be done by combining lowercase and uppercase letters with symbols and numbers.
Create unique passwords for each account. Avoid using the same password for every site to thwart cybercriminals.
Avoid suspicious emails, posts, tweets and online ads that are designed by cybercriminals to hack into your computer.
Each day new sites are being created that are intended for senior citizens, in addition to Twitter, LinkedIn and Facebook. Some of these sites include Growing Bolder, Eons and Eldr.com. Although these types of social sites provide lonely seniors with a way to share and feel like they belong to something bigger, it is important that you caution them to stay safe while they are staying connected.
If you have any questions about keeping seniors safe online, give us a call at 203.359.5777 today!
This entry was posted in Assisted Living and tagged seniors on social media, social media, social media safety. Bookmark the permalink.
Author:
Ann Jamison
Ann Jamison is an experienced senior advisor who has successfully worked with hundreds of families to help them find the best care and home-like environment for themselves or their loved ones. Prior to launching Senior Living Options, Ann was an eldercare advisor for a national placement agency and served as sales director at a senior living community. Thanks to her 25-year career in advertising sales and marketing, Ann is able to discern between hype and reality for her clients. Ann recognizes that there are objective factors that need to be weighed when making a life-changing decision, but she can also assess the important softer attributes by getting to know her clients and by using the gut instincts that can only come through extended experience.