Did You Say Staying Positive Helps Mental Health? I Am Listening…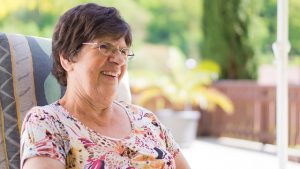 Your whole life you are told to be positive–and with good reason. According to studies, aging adults who have a positive mental outlook, especially about aging, have 44% less likelihood to develop dementia. It is important to view your life while growing older as a positive one. For example, think about what you can do as you age and not the negative restrictions.
Research has shown that the positive attitude amongst seniors who carry the strongest risk factors to develop dementia—the E4 variant of the APOE gene—were 50% less likely develop the disease than their peers who had negative attitudes about aging.
So now what?
It is important to surround your aging loved ones with positive vibes about growing old. Find the positives in aging and you will be extremely helpful in assisting your aging loved ones from developing dementia.
5 Steps to Keep Your Aging Parents Positive About Growing Old
Keep Them Physically and Mentally Active

Exercising on a regular basis keeps the body and mind healthy and happy. Also, if you do weight training you keep your bones, joints, and muscles in top shape. Go outside and exercise and add another positive benefit of socializing with others or just enjoy the beauty of nature.

Embrace Healthy Living

Keeping a regular diet, sleep habit, and exercise helps you maintain a positive and healthy life. Give up the vices and embrace being healthy, and you will feel not only positive, but also fit to face any fun activities or challenges of the day.

Be Social

Engage in activities that keep you social. You will gain purpose and a positive attitude about living at any age. Social integration helps

extend your life and enjoyment of life!

Give it a try and call a friend to go to lunch or dinner and a movie.

Have Purpose

Set goals or plans that you have to work toward achieving. Working toward a goal gives you a sense of purpose. A sense of purpose gives a positive vibe for helps you stay healthy as you age. Give it a try!

Reduce Stress

Everyone has stress, but reducing your stress helps build a positive attitude. It is too easy to fall into the negative traps of stress. By eliminating as much as you can, you gain positivity that you can pass along to those around you.
At the end of the day, you want to be positive at every step of aging. Let's face it: people enjoy being around those that are positive and not grumpy or negative about aging. Be the one giving support and happiness as you age positively!
Want to learn more to help your senior loved one age with positivity? Contact Ann at Senior Living Options to learn all your choices to help your aging loved one through the next stages of living.
Author:
Ann Jamison
Ann Jamison is an experienced senior advisor who has successfully worked with hundreds of families to help them find the best care and home-like environment for themselves or their loved ones. Prior to launching Senior Living Options, Ann was an eldercare advisor for a national placement agency and served as sales director at a senior living community. Thanks to her 25-year career in advertising sales and marketing, Ann is able to discern between hype and reality for her clients. Ann recognizes that there are objective factors that need to be weighed when making a life-changing decision, but she can also assess the important softer attributes by getting to know her clients and by using the gut instincts that can only come through extended experience.