Ways to Prevent Holiday Scams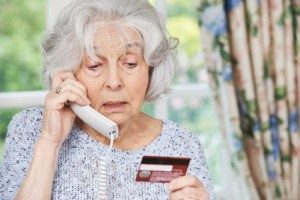 There are many scams and cons out in the world that thrive on taking advantage of the aging population. You need to be aware and question everything to make sure that those close to you do not end up becoming a victim. Here are a few that specifically target seniors in hopes of emptying their bank accounts.
1. Medical Health Insurance Scam
A common scam with medical insurance for elders deals with Medicare or Medicaid. For instance, let's say you or someone you know is watching TV at home and get a call saying, "we are issuing new cards and need your Medicare number." Without thinking about it, you give them the number only to later learn that the caller was just trying to steal your identity. The caller does not work for Medicare or Medicaid Services, and if you give the information over the phone, there's a chance that you could be ripped off, or even a target for another scam later down the road. Remember, Medicare and Medicaid will never ask for personal information over the phone.
2. Funeral and Cemetery Scams
Needless to say, it is horrific to think a criminal would take advantage of aging adults after they have lost a loved one. However, one of the top ways scammers take advantage of a widow or widower is by claiming their loved one that passed away had an outstanding debt with them. By playing on the emotions of the widow or widower, the scammer hopes to extort money out of them. Be sure to verify any of these claims before making any payment.
3. Sweepstake and Lottery Scams
Sweepstakes and Lottery scams are pretty common and the criminal/scammer is usually pretty determined to get money out of the older adult. Typically they ask for a bank account number to deposit the winning funds in for the them. Giving away account information over the phone is never acceptable and a dead giveaway that something is just not right here. The other angle the scammer takes is by sending a senior a check they can deposit. However, the criminal will demand fees or tax monies for the fake check before they send it and it subsequently bounces.
4. Investment Scams
Many seniors often work at investing their money for life after retirement. They want to manage their savings so they can live comfortably without having to work another job. Unfortunately, there are countless scams that target older adults after they have finished working. Many schemes offer to safeguard their money for later years. However, many of these opportunities turn into investment nightmares. It is important to consult with your an accountant and/or attorney if you are looking at a potential investment opportunity, just to make sure it is a real deal.
5. Fraudulent Anti-Aging Scams
As people age, they usually try to stay younger looking for as long as possible. So as aging adults try to conceal their age, they can become a target to aging scams, just like the bogus Botox case in Arizona back in 2006 that allowed one person to collect over a million dollars in less than a year with completely ineffective homeopathic remedies that did absolutely nothing but drain your bank account. Aging adults not only need to fully research anything they are willing to put on their skin or in their bodies to make them look and feel young again, but also consult with their doctor. Many products can have severe health consequences that could be far worse than a few wrinkles.
Protecting yourself or your aging parents from scam can be a challenge. If you need more information visit Scams and Safety.
This entry was posted in Senior Care. Bookmark the permalink.
Author:
Ann Jamison
Ann Jamison is an experienced senior advisor who has successfully worked with hundreds of families to help them find the best care and home-like environment for themselves or their loved ones. Prior to launching Senior Living Options, Ann was an eldercare advisor for a national placement agency and served as sales director at a senior living community. Thanks to her 25-year career in advertising sales and marketing, Ann is able to discern between hype and reality for her clients. Ann recognizes that there are objective factors that need to be weighed when making a life-changing decision, but she can also assess the important softer attributes by getting to know her clients and by using the gut instincts that can only come through extended experience.