Clinicians: Guiding Seniors with Ease to the Next Step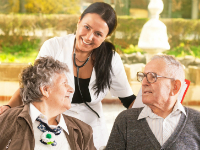 Today an adult daughter comes in to meet with your short term rehab staff after her mom fell, was disoriented and was admitted to the hospital. How many days will mom be at short term rehab? What will mom's care needs be going forward? How can you best help this family and keep up with all your patients you are managing? As a clinician, you are constantly trying to find ways to assist seniors and their families in finding the best care options that meet their specific needs, but you are struggling to find an efficient process to do so.
How many times are you faced with the scenario that client now needs 24 hour care and the family is overwhelmed and does not know how they can do this? How do you help the family find a safe discharge solution? These are situations clinicians are commonly faced with on a daily basis and we know you could use some extra resources to make your job a bit easier.
3 Useful Ideas to Help You Save Time and Find the Right Fit for Seniors:
Directories of communities or using a senior advisor. This is a great place to start! Are you trying to locate someone who can help you find the right senior living care options for your clients? We know that your workload is maxed out and you have no time. Senior advisors make great partners in helping you find the right community for your client. They understand the kind of care, culture and housing the communities around the area offer, saving you time in your search.
Types of care offered at the communities. It's important that your senior client leaves the hospital or short-term rehab and finds the best senior living community and care to enable them to be safe and successful. For example, if a senior client has dementia, you want to make sure they find a community that specializes in dementia care.  Assuring your senior is placed correctly in a community that fits their lifestyle and care needs will help reduce re-admission into the hospital.
Resident financial obligations. How is the senior going to pay for this care? This is something that a clinician is typically not aware of because the patient is covered under Medicare.  A placement service will inquire about the financial situation before starting to suggest options for them to consider. Will expenses be able to be covered by private pay funds or long-term insurance? And what are the estimated monthly out of pocket costs for various options? These are important details that must be discussed right away.
These ideas will help you be more efficient and yet still add a personal touch in helping your seniors find the best fit in their community.
Need more help with senior care? Contact us at 203.359.5777 today!
This entry was posted in Assisted Living. Bookmark the permalink.
Author:
Ann Jamison
Ann Jamison is an experienced senior advisor who has successfully worked with hundreds of families to help them find the best care and home-like environment for themselves or their loved ones. Prior to launching Senior Living Options, Ann was an eldercare advisor for a national placement agency and served as sales director at a senior living community. Thanks to her 25-year career in advertising sales and marketing, Ann is able to discern between hype and reality for her clients. Ann recognizes that there are objective factors that need to be weighed when making a life-changing decision, but she can also assess the important softer attributes by getting to know her clients and by using the gut instincts that can only come through extended experience.