Medical Professionals' Role in Elder Abuse Detection and Prevention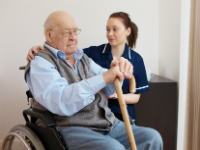 More than 500,000 older adults are victims of abuse or neglect each year, according to the Centers for Disease Control and Prevention. Physicians and other healthcare professionals are on the front line of elder abuse detection and prevention because they are frequently the first to observe signs and symptoms of abuse or neglect.
Healthcare professionals play many roles in identifying and preventing elder abuse. Doctors and other medical professionals have the training and expertise to evaluate the plausibility of the explanations given by the victim or the perpetrator to explain the injuries or conditions. Many clinicians use established abuse screenings to help them detect elder abuse.
Clinicians can also assess the cognitive status of the individual and the health factors that affect the patient's mental status in a way that increases the risk for abuse and neglect. For example, dementia puts patients at a higher risk for abuse. A 2009 study showed that nearly half of all people with dementia experience some type of abuse.
A Healthcare Professional's Role
Physicians and other healthcare professionals are responsible for treating injuries or health problems resulting from elder abuse. Victims of elder abuse require hospitalization more often than do other older adults. A 2013 study published in JAMA showed that the unadjusted mean annual rate of hospitalization was 0.62 (95% CI, 0.59-0.66) for elderly patients who did not suffer abuse and 1.97 (95% CI, 1.33-2.61) for those who did.
Observations made by clinicians can substantiate claims of abuse. Healthcare professionals can even provide expert testimony in legal cases. Lastly, healthcare professionals can work to reduce the occurrence of elder abuse in their own communities.
Identifying the Six Types of Elder Abuse in Your Patients
Physical abuse
Sexual abuse
Emotional abuse
Neglect
Abandonment
Financial abuse
Elderly patients may suffer one type of abuse or a combination of abuses. Each type of abuse presents unique indicators to the alert healthcare professional. Signs of physical abuse include unexplained bruises, welts, wounds, cigarette burns or other injuries.
Unexplained or poorly explained sprains and even fractures may indicate elder abuse. A clinician may find signs of sexual abuse upon physical examination. Clinicians should be suspicious in cases where there is a great delay between the time of injury or illness and assessment.
An elderly patient who seems to feel hopeless and demonstrates passive, helpless or withdrawn behavior may be exhibiting signs of psychological abuse. The individual may tremble and appear anxious or fearful. An elderly patient who appears unclean, underweight or frail and dehydrated may be a victim of neglect.
Reducing the Risk for Elder Abuse
As a physician, nurse or other healthcare professional, you can take a proactive stance against elder abuse in a variety of ways. Join a multidisciplinary team of eldercare experts dedicated to reducing elder abuse. Encourage your local clinics, hospitals and other nearby healthcare organizations to create or maintain protocols to screen for and respond to elder abuse.
Make it your professional goal to learn more about elder abuse and institute a career-long goal to detect, treat, and reduce the occurrence of elder abuse.
Are you worried about whether or not your senior may be suffering from elder abuse? Contact us at 203.359.5777 today to talk!
This entry was posted in Assisted Living. Bookmark the permalink.
Author:
Ann Jamison
Ann Jamison is an experienced senior advisor who has successfully worked with hundreds of families to help them find the best care and home-like environment for themselves or their loved ones. Prior to launching Senior Living Options, Ann was an eldercare advisor for a national placement agency and served as sales director at a senior living community. Thanks to her 25-year career in advertising sales and marketing, Ann is able to discern between hype and reality for her clients. Ann recognizes that there are objective factors that need to be weighed when making a life-changing decision, but she can also assess the important softer attributes by getting to know her clients and by using the gut instincts that can only come through extended experience.